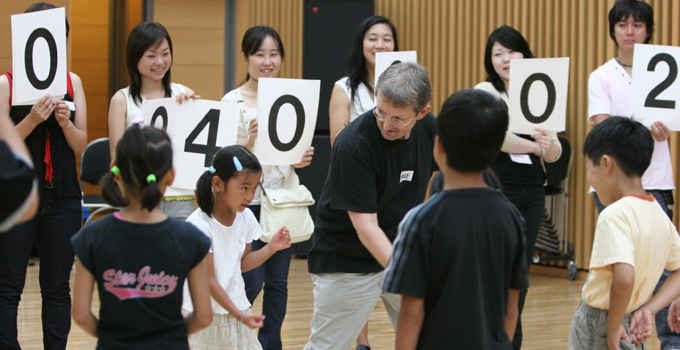 Creative "learning" through music

Japan Philharmonic Orchestra has been proactively developing and promoting experience-based education programs focusing onmusic creating workshops.
These workshops are now attracting attention as a place to learn and nurture diversity, originality and cooperation skills that are now demanded by the world.
During the workshop with members of the orchestra, you can explore the charm of music from different points of view and spread the enjoyment of art.
Japan Philharmonic Orchestra has invited Mr. Michael Spencer (former violinist at London Symphony Orchestra and British Royal Opera House Education Director: on the photograph above) from the U.K., the homeland of workshops, to further develop our music creating workshops.
Members of the orchestra have been proactively learning the workshop methods of Mr. Spencer and developing their original "creative programs" and have been active as facilitators supporting the participants.

Mr. Michael Spencer biography
Former violinist at London Symphony Orchestra and Education Director at British Royal Opera House, Mr. Spencer has been developing and practicing educational, regional and human resource development programs in cooperation with art organizations and companies around the globe and is being highly regarded for his work. He has conducted a large number of educational programs in association with Japan Philharmonic Orchestra and other professional orchestras in Japan for the past 15 years. In 2008, he received the Academy Award (short animation category) for "Peter and the Wolf" in which he was the education director. Mr. Spencer is a visiting researcher at Ueno Gakuen University Music Culture Research Center.
---
Samples of workshops by Japan Philharmonic Orchestra
・A Sound Environment "Landscape of our music" (based on Vivaldi "Four Seasons")
・"The Rite of Spring" workshop and workshop-type Orchestra Concert (based on Stravinsky "The Rite of Spring")
・Japan Philharmonic Orchestra Spring vacation exploration "Peter and the Wolf" (based on Prokofiev "Peter and the Wolf")
・Our one thousand "two nights" stories (based on Rimsky-Korsakov "Scheherazade")
・Cinderella Project (based on Prokofiev "Cinderella")
・Introducing Orchestra to children (based on Stravinsky "Petrushka"/Association of Japanese Symphony Orchestras Project)
・"Pictures at an Exhibition" (Mussorgsky "Pictures at an Exhibition")
・John Cage "Musicircus" (based on accidental music/Mori Art Museum "French Window Exhibition joint project)
・Let's create music with the black keys (based on Ravel "Ma mère l'oye")
・Our Music Zoo (based on

Saint-Saëns

"Carnival of the Animals")
・Let's create music with the rhythm of 1 and 3 (based on Ravel "Bolero")
・Let's reflect the image of "Space, Star, Glitter" in music (based on Holst "The Planets")